AnglerHosting.com's Website Design Samples Portfolio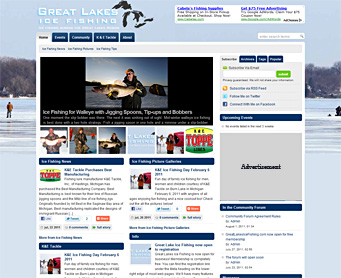 GreatLakesIceFishing.com (GLIF) is one of our community websites. A content and integrated community forum website built on WordPress with custom logo and background image. GLIF includes social sharing features, Facebook statuses, video embedding, an image gallery with slideshows, advertising spots and a featured news glider on the home page.
---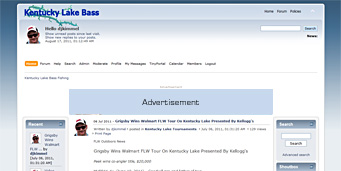 KentuckyLakeBass.com is also a website of ours that is a portal-wrapped forum based on Simple Machines Forum (SMF) with video embedding designed to give it a CMS-look using the popular forum-based membership site.
---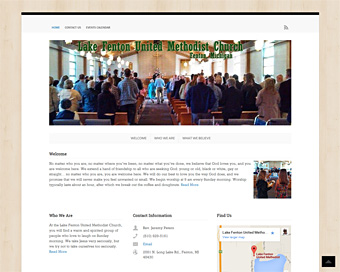 LakeFentonUMC.org is a website we recently completed the starting setup on to literally put a local church in Fenton, Michigan – Lake Fenton United Methodist Church – on the Internet map with their contact information and location help through mapping along with a little bit about who they are.
---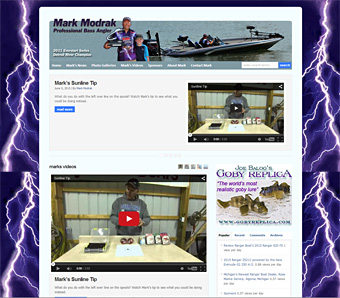 We designed and built MarkModrak.com for Michigan regional bass tournament angler Mark Modrak to help him better service and promote his important sponsors while also allowing Mark to update his website with new content and promotional material on his own.
---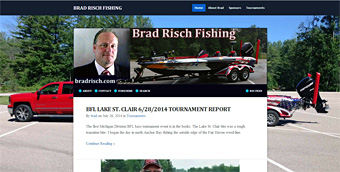 BradRisch.com was designed and built for Michigan bass tournament angler Brad Risch to share some of his fishing adventures and information with his day job clients, friends and family who are interested in his activities.
Website Management Examples
We provide complete website management to Garneau Baits – www.garneaubaits.com – including graphics, page updates, additions, shopping cart and assistance with social promotion on Facebook and Youtube video. We also host the Garneau Baits website.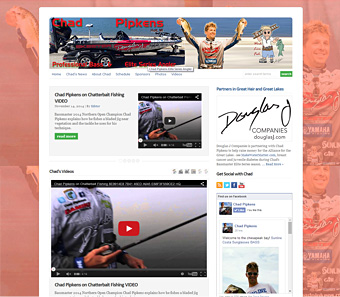 ChadPipkens.com is a website we built on WordPress to help the full-time professional bass angler expand his reach and promotion efforts as he competes at the national level in the Bassmaster Elite Series. Features integrated Facebook and social sharing features to assist in building a regular following of fans, news glider on the home page, and featured videos with video embedding too. We host the website and do some website management on it.
We provide other services to tournament anglers. Please contact us if you would like to find out how we can help you concentrate on your fishing by having us produce important items such as quarterly reports to sponsors.
---
Bakenista.com is a new website we built on WordPress customizing the graphics to match the customer's preferred colors and subject matter. The logo was a custom design to match the look and feel the customer wanted. Bakenista includes popular social sharing capabilities and we helped the customer get her Facebook page started with a custom username – facebook.com/Bakenista – by building her first 25 Likes.
---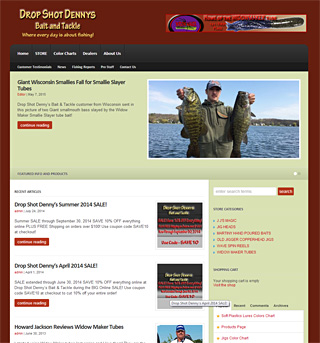 theDropShotDenny.com is a simple, yet effective e-commerce website we designed and built for Denny on a WordPress engine to feature and sell his bait and tackle fishing products to the entire United States fishing market, to help Denny reach out to more customers over a wider area with online sales while sticking within his budget.
---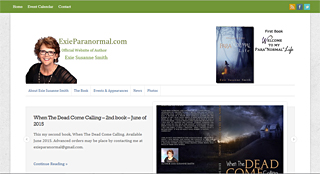 Exieparanormal.com is the official website for author Exie Susanne Smith, writer of two books on her paranormal life experiences including Welcome to my Para"Normal" Live and the new When the Dead Come Calling.
---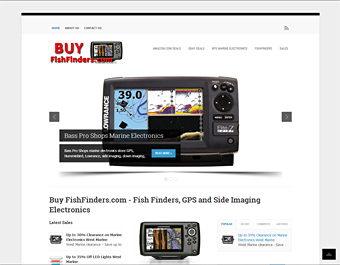 BuyFishfinders.com is a mini-website in our own portfolio designed to hold content and attract web traffic to affiliate links pertaining to GPS, fish finders, side imaging units and related accessories. It features a number of shopping widgets from various online suppliers of marine electronics including sales and deals.